….Have you never been to a bed and breakfast before
how about considering whether to try to find one?
Are you already familiar with bed and breakfasts
and want to find a new one – we hope that we can help.
Do you already know which bed and breakfast you want to visit again
and want to book online? – that is why we are here.
www.bedandbreakfast.org.uk - we hope that we
can help with bed and breakfast or in addition guesthouse
or hotel accommodation around the UK and of course visitors,
if you have any questions about our bed and breakfast site
accommodation site, do not hesitate to get in touch –
your bed and breakfast stay is our aim to facilitate.
www.bedandbreakfast.org.uk
Firesafetysense - epetition response
From the Government, 10 Downing Street
Wednesday 18 February 2009
We received a petition asking:
"We the undersigned petition the Prime Minister to act to ensure that the 2006 Fire Regulations ("RRFSO") are enforced proportionately and consistently without onerous burdens on very small premises not justified by the actual risk."
Details of Petition:
"The Regulatory Reform (Fire Safety) Order 2005 (RRFSO), in force since October 2006, requires many tens of thousands of small home-based businesses to do a Fire Risk Assessment and put in "appropriate" fire precautions, bearing in mind the size of the undertaking. The way this is being enforced in practice by local fire authorities is inconsistent, and is frequently imposing onerous burdens, not justified by the actual risk, on very small premises (many of which are closing as a result, affecting tourism accommodation). We call on the Prime Minister to act to ensure that the proportionality intended by the RRFSO is delivered in practice in a "common sense" way as the RRFSO is enforced locally - thus ensuring that small home-based ventures are not threatened unnecessarily."
Read the Government's response
The Government recognises the essential contribution which micro-, small- and medium-sized businesses make to the British economy. The Government is particularly aware of the need to support such firms, and to ensure that regulatory and other burdens are risk-based and proportionate, during the global downturn. To help responsible persons, particularly micro-, small- and medium-sized businesses, comply with their responsibilities, the Government produced detailed guidance on the risk assessment process. This is available (to purchase or download free) at www.communities.gov.uk/firesafety .
The Government has recognised, however, that the proprietors of smaller premises offering accommodation may benefit from more tailored advice on the Order. The Government published on 18 November 'Do you have paying guests?' which can be downloaded from http://www.communities.gov.uk/publications/fire/payingguests
The Government worked in partnership with industry representatives, including many of those involved in the Fire Safety Sense Campaign, as well as with the Fire and Rescue Service itself to produce an information booklet on the requirements of the Order specifically for this sector. The booklet explains the risk assessment process, sets out sources of further advice and guidance and offers some practical information for owners on what may represent appropriate and proportionate fire safety measures in these more domestic-style of premises. Of course, the booklet can only offer generic advice: no two premises are the same and as a result, there can be no 'one size fits all' approach to fire safety.
The Government recognised that the Fire and Rescue Service may, in some instances, also welcome additional information and clarity on fire safety expectations in this type of premises. However the extent to which compliance is being delivered is a matter of professional judgement based on the specific circumstances of individual premises.
The Government welcomes the Bed and Breakfast Association's recent endorsement of the booklet in the January 2009 edition of Bed and Breakfast News.
Improving Your Business
"70% of the taste of the food is in the service" says Ruth Watson
Ruth Watson recently spoke to a large group of delegates at the Tourism West Midlands' annual conference. TV viewers will be familiar with Ruth as the star of Channel Five's 'The Hotel Inspector' where she can be seen in action - on a mission to transform the nation's worst accommodation, aiming to turn hostility into hospitality and swap empty beds for a 'No Vacancies' sign.
Food, Glorious Food!
Ruth has plenty of experience of the hospitality industry as well as a real passion for food. She is an award winning hotelier, restauranteur, cook, writer, and television presenter. Ruth currently owns the award winning Crown and Castle hotel, in the lovely village of Orford, on the Suffolk coast.
Do as you would be done by!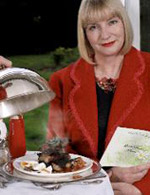 During Ruth's opening remarks, she extolled the virtues of one of her favourite characters, Mrs. Doasyouwouldbedoneby (from Charles Kingsley's book, The Water Babies) .
Ruth went onto remind delegates of the importance of giving good service by being welcoming and polite. Ruth believes that " 70% of the taste of the food is in the service. "
Ruth considers that looking after one's staff is of paramount importance and she recalled her exasperation whilst talking to one owner, who was complaining about his lack of staff, whilst saying 'of course, everyone knows that the industry pays badly!'
Marketing
Ruth stressed the importance of good marketing which she stressed, is not the same as advertising! She firmly believes that you can change your clientele by creative marketing. Contacting the local press is a good way of marketing your business positively, especially if you have introduced an innovative approach, such as becoming a 'green business'. Many businesses fail to attract bookings because their websites are not professional enough because, for example, large photographs make downloading pages slow.
Ruth asked delegates to remember that guests' 'Total Experience' is based on perception and she implored listeners to remember that one should not try to be what you cannot be. Speaking about location, Ruth gave the example of her home in Suffolk which does not attract overseas visitors in the same way as Stratford-upon-Avon does. Therefore one's marketing in Suffolk would differ from that of a Stratford B&B owner. As Ruth concluded her presentation, she shared some of her personal experiences of being in the hospitality trade and said that others must remember that no matter how good you are, you will never meet everyone's expectations!
Rick Stein OBE, talks to Bed and Breakfast News
Chris Stalker, recently asked Rick Stein some searching questions, in an exclusive interview for Bed & Breakfast News…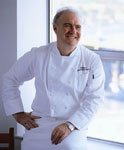 Rick Stein is what one might describe as a very busy man as juggles with travelling abroad, filming, writing books and running his businesses in Cornwall. I have always enjoyed watching Rick's TV programmes and I was delighted when he agreed to give Bed & Breakfast News an exclusive interview.
We began by chatting about Cornwall and I asked Rick what were his earliest recollections of cooking? Rick told me that as a youngster he liked helping his Mum in the kitchen. "She loved cooking and the first thing I learnt was how to make short crust pastry. As a teenager my favourite dish to cook for friends was Spaghetti Bolognese, adding Mum's secret ingredient of chicken livers to the minced beef!"
I wondered if Rick had always had a burning desire to be a chef but he explained, "No, I first trained in Hotel Management but I did not like the long hours. However, the chef's training inspired me as I've always liked food and cooking – as children, we were taken to nice restaurants when we were growing up and I developed a sophisticated palate for great food. All this led me to open my first restaurant!"
Whilst Rick's hotels come under the 'luxury' category, the rooms above his café offer more modest B&B accommodation. Rick told me that he started offering B&B to his guests at the café about fifteen years ago. "I decided to open the rooms above the café as B&B accommodation because I wanted our diners to extend their stay in Padstow and not just visit for a meal. Our guests particularly enjoy their breakfasts in the café after a good night's sleep."
Rick recently starred in one of BBC 2's films remembering the life and work of Sir John Betjeman, who was, like Rick, passionate about Cornwall. "Betjeman and Me - Rick Stein's Story" included extracts of Betjeman's poetry, glorious Cornish scenery and culminated in a seafood feast, cooked by Rick, for special guests including Sir John's daughter Candida Lycett Green and one of Sir John's best friends, Jonathan Steddall.

Rick says of his beloved Cornwall, "I just love Padstow. We came here for holidays every year when I was a child and now, 40 years later, I feel like I really belong here."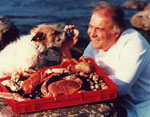 Rick as featured on the front cover of B&B News
Of course one can't talk to Rick Stein without talking about food, so I asked him what makes a good breakfast, a great breakfast. After a few seconds pause, Rick said "Attention to detail is the key to a good breakfast. Using the very best of local produce, like really fresh farm eggs, local sausage, bacon and dairy products. As Somerset Maughan famously said, 'you can eat well in England three times a day - breakfast, breakfast and breakfast'!"
So, what is Rick's favourite breakfast recipe? – Without hesitation he answered "Huevos Rancheros (a Mexican dish of eggs with beans fried in lard) and good coffee - bliss!"
Every chef seems to have a favourite piece of kitchen equipment and Rick told me that his 'musts' are "A set of really good cooks' knives; a big Cooks' knife, a tiny 'office' knife and a fish filleting knife. If you have these three knives, you don't need any others to prepare great food."
I found Rick very relaxed and easy to talk to, obviously a chap with a great sense of humour. So, what makes him laugh? He chuckled, "Banter with friends! A good laugh is often on the cards, after a day's filming with the TV crew I work with. We have got to know each other well and we have great fun."
Rick is great friends with Hugo Woolley (author of two superb recipe books, 'Breakfasts' and 'Brunch') who runs 'Woodlands Country House' in Padstow. Hugo writes a recipe for Bed & Breakfast News each month and he and Rick often exchange their culinary secrets
The B&B News Website:
The new Bed and Breakfast News website has been designed to be a source of information for new subscribers, advertisers and those in the industry wishing to submit editorial, it gives a flavour of the content of each monthly issue. The email links enable direct access to the B&B News news-desk.