Every month, Bed & Breakfast News magazne has a 'Legal Matters' page. These articles are written by Citation PLC and include the latest information and legislation on all aspects of Health & Safety, Employment Law etc Be sure to subscribe to B&B News to keep up to date!

First Aid at Work
One of the most frequent questions that Citation Plc is asked is:-
" What first aid equipment is needed and how many first aiders do we require at our company?"
About 1 million workplace accidents take place each year, therefore the Health and Safety (First Aid) Regulations 1981 require all employers to provide adequate and appropriate equipment, facilities and personnel to enable first aid treatment to be given to employees if they are injured or become ill at work. The Regulations are relevant to all workplaces and employees including those who employ less than five employees or are self-employed.
What is adequate and appropriate will often depend on the workplace, the minimum provisions for any organisations are: -
· A clearly identifiable and appropriately stocked first aid kit.
· An appointed person to take care of the provisions in place for dealing with first aid.
· Suitable and sufficient guidance informing people about the first aid provisions.
To enable organisations to decide what arrangements are required, it is necessary to compile a detailed risk assessment. The assessment should cover the following issues: -
· Are there any specific hazards within the workplace that could cause injury or ill health i.e. machinery, dangerous substances, tools etc.
· The locations of the company premises that are used.
· The size and numbers of employees and distribution of the workforce i.e. whether there is shift work undertaken, whether staff are required to travel or work alone or remotely or whether the premises are multi-tenanted and first aid treatment is provided by another occupier.
· Details of previous accidents and ill health that has happened within the company and frequency that they have occurred.
· Are members of the public likely to be injured or become ill when on company premises. (Although employers do not have any legal responsibility to provide first aid provisions for non-employees the HSE strongly recommend that it be considered within the company's arrangements.)
· Will there be adequate cover during annual leave and other absences.
When you have completed your assessment of first aid needs, you will be able to decide what first aid equipment is required. The minimum requirement is a basic first aid kit. (See list at the end of the article.) However the assessment may require additional materials to be included in the kit such as scissors, adhesive tape, disposable aprons, and where necessary individually wrapped medical wipes. These can be stored with the first aid kit or separately if required.
Where mains tap water is not readily available for eye irrigation at least 1 litre of sterile water or sterile normal saline water in sealed disposable containers must be provided. If the seal on the container is damaged the container should be disposed of and replaced.
Although there is no specific timetable for reviewing first aid kits it is advisable to appoint a member of staff who can check the contents of the kit as sterile dressings are often marked with a "best before date." These items should be replaced according to the dates given on the side of the packaging. All other dressings should be checked to ensure that they are clean and have not been damaged in anyway.
In general the first aid kits should be in a green box with a white cross so it is easily identified and it should not contain any form of medication or tablets.
The regulations do not specify any precise numbers of first aid personnel however guidance has been provided for suggested numbers. This guidance is not definite and is not a legal requirement. For example low risk environments such as shops, offices, libraries, hotels, were there is fewer than 50 staff, there should be at least one appointed person, were there are 50 - 100 members of staff there should be at least one first aider and an additional first aider for every 100 thereafter.
The Health and Safety (First Aid) Regulations 1981 require companies to provide adequate and appropriate personnel to ensure that first aid can be given to staff.
The definitions of first aid in the regulations are:-
· To preserve life and minimise the consequences of injury and illness until the individual can be treated by a doctor or nurse.
· The treatment of minor injuries that do not require treatment by a medical practitioner or injuries that would otherwise not be treated.
Therefore to comply with the regulations, it is important to ensure that staff are suitably qualified to administer first aid treatment. There are two different types of courses that staff can attend i.e. appointed person and a full first aid course.
An appointed person is a member of staff within the organisation who is chosen to take charge if someone is injured or falls ill whilst at work. The role include calling for medical assistance, looking after the first aid kit and were necessary restocking the first aid kit. An appointed person should not attempt to give any first aid treatment for which they have not been trained. There is no legal requirement for the appointed person to undertake an approved training course however courses are available for individuals who want to further their knowledge.
A full first aider is a person who has undergone an appropriate HSE approved training course to administer first aid and holds a current certificate. The course takes approximately 24 hours and is usually undertaken over several days. The certificate that is issued after successful completion of the course and examination is valid for three years. This certificate must be revalidated prior to it expiring by attending a re-qualification course that takes approximately 12 hours and is normally held over two days.
It is highly unlikely that any legal action would be taken against any first aider who was using the first aid training that they have received should the untoward happen during treatment. However if you require any further legal advice it can be obtained by contacting your company's legal advisor or by contacting your insurance broker to ascertain if their policies cover first aider's liability.
Finally now that you have your first aid arrangement in place, it will be important to ensure that all members of staff are familiar with the procedures. This can be done by simply displaying suitable notices in prominent positions around your premises indicating the names of the first aiders and where they can be found along with the location of the first aid kits.
The HSE have recently announced that they will be making changes to the first aid training requirements, which will be the first major amendment in 25 year. This change is due to come into force on 1 st October 2009 and will not affect your current first aider's certificates. Any training that is under consideration should still go ahead as it is not envisaged that there will be anything new included on the course that is not already being covered.
The amendments that are being introduced are regarding the time that the course takes and it will be reduced from 4 days to three days. The HSE also recognise that skills fade during the three-year validity of the certificate and are strongly recommending a three-hour refresher course be undertaken on an annual basis. Further information regarding this change will be provided near to the time.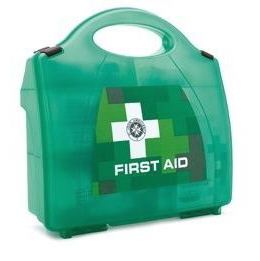 General first aid Kit

Travelling first aid Kit

A guidance leaflet giving basic information on first aid.

A guidance leaflet giving basic information on first aid.

20 individually wrapped sterile adhesive dressings (assorted sizes) appropriate to the work in the organisation.

6 individually wrapped sterile adhesive dressings.

2 sterile eye pads with attachments.

2 individually wrapped triangular bandages (preferably sterile).

4 individually wrapped triangular bandages (preferably sterile).

1 large sized individually wrapped sterile unmedicated wound dressings 18cm x 18 cm

6 safety pins.

2 individually wrapped triangular bandages (Preferably sterile)

6 medium-sized individually wrapped sterile unmedicated wound dressings

(approximately 12cm x 12cm).

2 safety pins.

2 large individually wrapped unmedicated wound dressings (approximately 18cm x 18cm).

Individually wrapped moist cleansing wipes.

1 pair of disposable gloves.

1 pair of disposable gloves.
Note: The kit pictured is the Workspace Special Kit available from wstjohnsupplies.co.uk
---
Good Practice means Good Business
Citation's Nigel Lea gives an overview of the recent EU-OSHA report
As Bed & Breakfast establishments can safely come under the 'hotels, restaurants and catering" (HORECA) sector, it is worth highlighting some of the contents of a recent Health & Safety report published about the sector.
EU-OSHA Report
In November 2008, the European Agency for Safety and Health at Work (EU-OSHA) produced a report entitled 'Protecting workers in hotels, restaurants and catering', and emphasised that good practice makes tangible differences to the wellbeing of the business. Admittedly, the typical Bed & Breakfast Business may well operate on a smaller scale than a typical hotel or restaurant, but the report is quick to point out that 90% of all HORECA establishments have 10 workers or less, so its contents may be more relevant to you than you first thought. As your employees are a valuable asset, it is important to maintain that two-way relationship for the benefit of both parties.
Risk Assessments
Whilst you may raise your eyebrows when you hear that the report describes working conditions in the industry as being 'often difficult' with a 'high proportion of relatively unskilled young and migrant workers' ; the report does highlight some areas of health & safety legislation that can be easily addressed to your benefit. For example, you may be familiar with the Health & Safety Executive (HSE) campaign on slips and trips in the workplace (ref B&B News April 2008).
A main part of this campaign was focussed on kitchens and how some simple measures could really help improve the overall safety levels. Areas highlighted included some luxury measures such as changing to specialist flooring surfaces, right through to basic measures such as staff training on safe cleaning methods. This was coupled together with that ever popular area - that is the 'risk assessment', and sought to educate and inform people on what they should look for when compiling their own assessments for their business.
As with all risk assessments, they don't need to be overly complicated and should concentrate on the major issues of the task you are assessing. Once completed, make those in your business aware of them and keep them all together in keeping with good business practice. If you need an idea of how to lay out your assessments, the HSE has
produced a suite of model assessments that can be accessed at www.hse.gov.uk
Good Communications
From an employer's point of view, we all like to think we are a great boss and that we treat our staff well
The report also made reference to the fact that workers within the sector may be more exposed to exploitation or abuse than the 'average' worker. Of course, deciding what constitutes an 'average worker' can create a whole separate debate outside of this article, but the salient point is that bullying and/or exploitation does happen within the working environment and so as an employer, you must be aware of this and do what you can to eliminate it occurring within your own business.
From an employer's point of view, we all like to think we are a great boss and that we treat our staff well and have done for years, but even little things can knock a good employer-employee relationship out of kilter; even if you don't intend to act in a detrimental way. For example, a worker may finish at a certain time of day, but they are then asked to stay behind for a little while 'just until we get this finished'. The employee obliges as they wish to appear keen and willing, but then it happens again a few days later until a trend emerges where the employee is working a considerable amount of unpaid time outside of their working hours. Could this be seen as exploitative behaviour? Albeit not intentional of course!
The above example highlights that employers should always look at their own working practices as well as those of their staff so that they see that 'bigger picture'. Proactively asking your staff for their opinions and views is a massive step towards breaking down communication barriers. Just because your staff don't come to you with views or concerns doesn't mean that they don't have any!
Considering Consequences
As I have mentioned in previous articles, the consequences of a health & safety or employment law issue are often felt most by the smaller business as they have less capacity to absorb them than a larger business. If a member of staff has an accident at work then a small firm may struggle to find and afford replacement staff, pay sick pay, deal with any resulting insurance paperwork, make and required changes to the premises, etc. as well as running the business to the same high standards! This merely highlights the need for you to at least consider placing health & safety high up on your list of your top business priorities.
---

Subscribe today to keep abreast of the latest legal issues affecting your business!